Simpele en gezonde hondensnacks en hondenkoekjes.
10 GEWELDIG HONDENSNACKS DIE JE HOND HEERLIJK ZAL VINDEN
Ik vind het heerlijk om nieuwe recepten uit te proberen en nieuwe smaken te proeven. Gedurende de week maak ik vaak gerechten waarvan ik weet dat iedereen ze lust en ook daadwerkelijk eet (--> de kinderen).
In het weekend neem ik meer tijd voor het koken en geniet ik er meer van. De kinderen vinden het ook steeds leuker om te koken. Ze kennen de weg in de keuken en ik moet je zeggen dat onze oudste dochter inmiddels de aangewezen persoon is om een lekker gebakken eitje te maken.
Zo af en toe bakken we koekjes en andere lekkernijen, niet voor onszelf maar voor de honden. Het is een leuke activiteit om samen met de kinderen op te pakken of gewoon een fijn moment voor jezelf (inclusief een lekker muziekje en een drankje).
Er zijn veel recepten voor hondenkoeken te vinden op het internet en we hebben er veel uitgeprobeerd. Dus als je het een leuk idee vindt om zelf eens lekkere hondenkoekjes en hondenhapjes te maken, lees dan even door en probeer onze 10 favoriete recepten eens uit.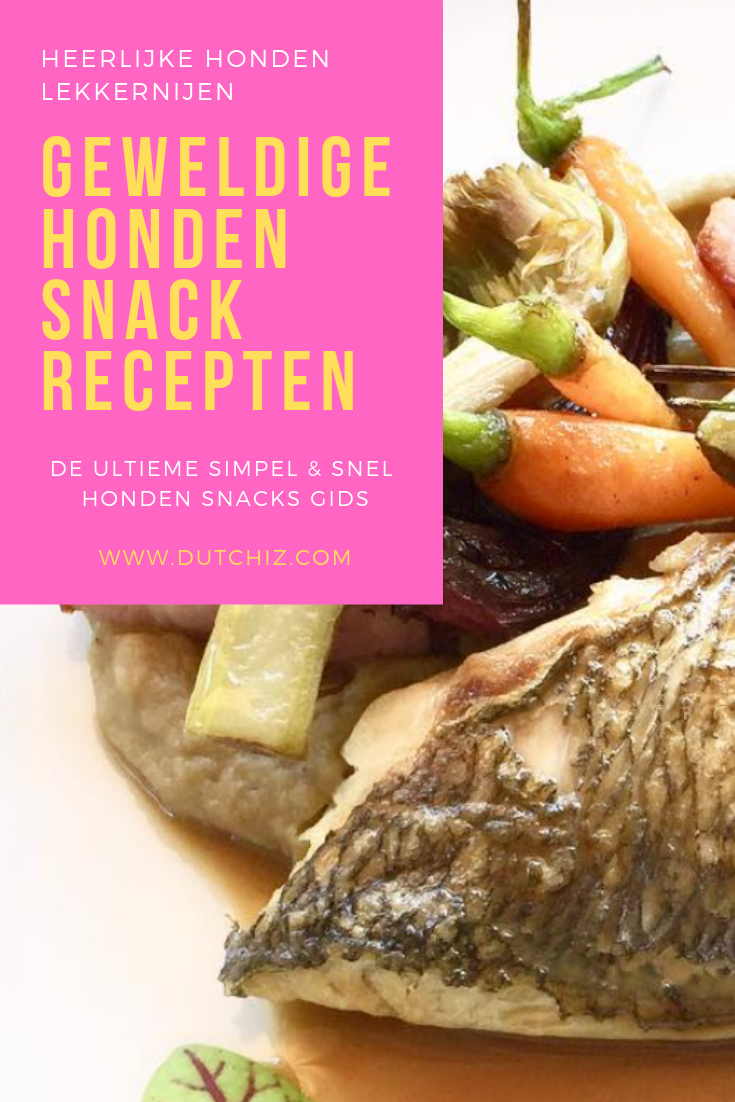 7 Redenen om je eigen hondenkoekjes te bakken
Steeds meer dierenspeciaalzaken verkopen producten gemaakt van natuurlijke ingredienten of met mindere suiker en toevoegingen. Dat is een geweldige ontwikkeling. De voordelen van het thuis bakken van hondensnacks is dat je exact weet waar het van gemaakt is. Je kiest zelf de ingredienten, je weet zeker dat het een goed en verantwoord products is. 

7 redenen om je eigen hondensnoepjes te bakken
Het is super gezond (veel vitaminen in rauwe groenten en fruit)
Het smaakt geweldig 
Het is een leuke activiteit voor jezelf of met vrienden & familie
Je kunt de hondensnoepjes cadeau geven aan iemand, verpak het mooi en het is een heel origineel cadeau
Je hond zal nog meer van je houden 
Als je kleine porties maakt kun je de hondensnoepjes of hondenkoekjes ook gebruiken als beloning tijdens de hondencursus of hondentraining
Je kunt de naam van je hond in het hondenkoekje stempelen en het nog persoonlijker maken
De voordelen van het zelf bakken van hondensnoepjes of hondenkoekjes is dat het er niet perfect uit hoeft te zien. Je kunt het koekje vormgeven zoals je zelf wilt. Een ander voordeel: het is (bijna) keuken dummy proof. Ik beloof je, zelfs mijn meest grote bak mislukking werd met niets minderen dan een groots applaus ontvangen door mijn honden en was binnen een aantal seconden tot op de laatste kruimel verorberd.
How to bake dog cookies & treats
If you're planning on baking dog cookies & treats there are a couple of kitchen items that will help you a lot.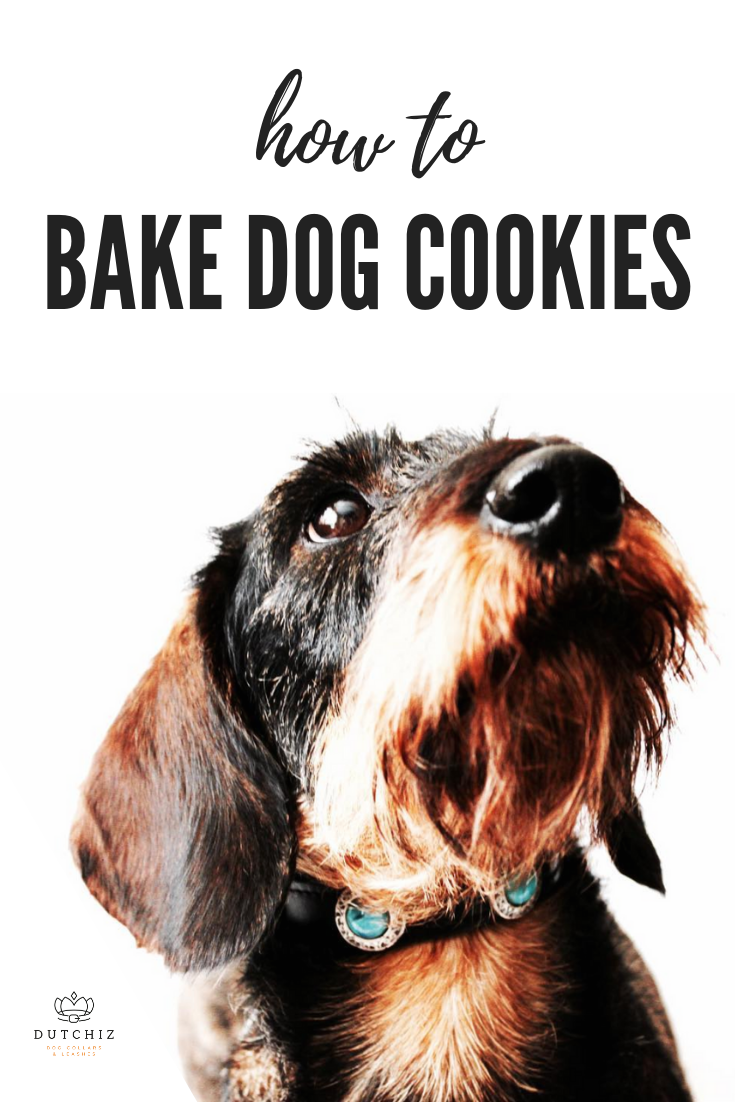 It would be handy if you have the following items:
- a large bowl
- a silicone spatula or wooden spoon
- an oven (of you're baking cookies)
- a measurement cup and/or kitchen scale
- baking paper or a silicone baking mat
When baking cookies makes sure you pre heat the oven at 200 Celcius.
10 easy bake dog cookie & treats recipes
Here are 10 easy bake dog cookie & treats recipes that will knock your dog of its paws. Trust me, they will love you and adore you when they taste your homemade treats.
PS don't put them in a cookie jar on the counter. It won't be the first time someone (let's say grandma) will take a bite.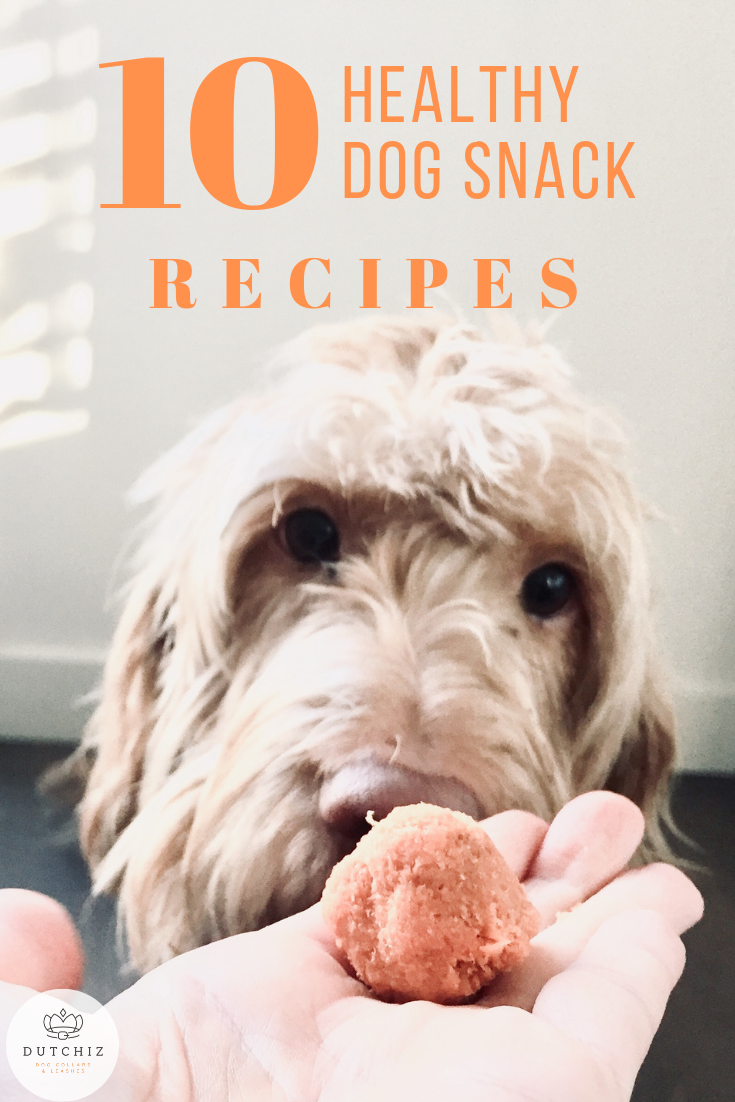 Recipes:
Natural & healthy vegetable & fruit dog treats
Peanut butter dog treats
Peanut butter, oats & broth dog cookies
Frozen apple yoghurt dog treats
Vegan & gluten free dog treats
Apple carrot dog treats
Pumpkin carrot dog treats
Salmon sweet potato dog treats
Pumpkin carrot dog treats
Frozen banana peanut butter dog treats
1. Natural & healthy vegetable & fruit dog treats
We regularly make a smoothie or a juice. Sometimes a healthy green one and sometimes a fruity one. No matter what you make you are always left with leftovers.
When we use our juicer (for clear vegetable or fruit juice without fibres) the machine leaves behind a pretty large pile of pulp. The first few times we threw away the pulp, but that is really a big waste. You can either use the pulp as fertilizer for your garden or use it to make delicious dog treats.
In the picture you see me holding a small ball in my hand. It might look like a small meatball but it's really not. It's a small carrot ball. I took out the pulp from the juicer and made small balls from it, just the way you would make a meatball. This particular carrot ball also has some apple in it because I made a carrot-apple-beet-lime-celery juice.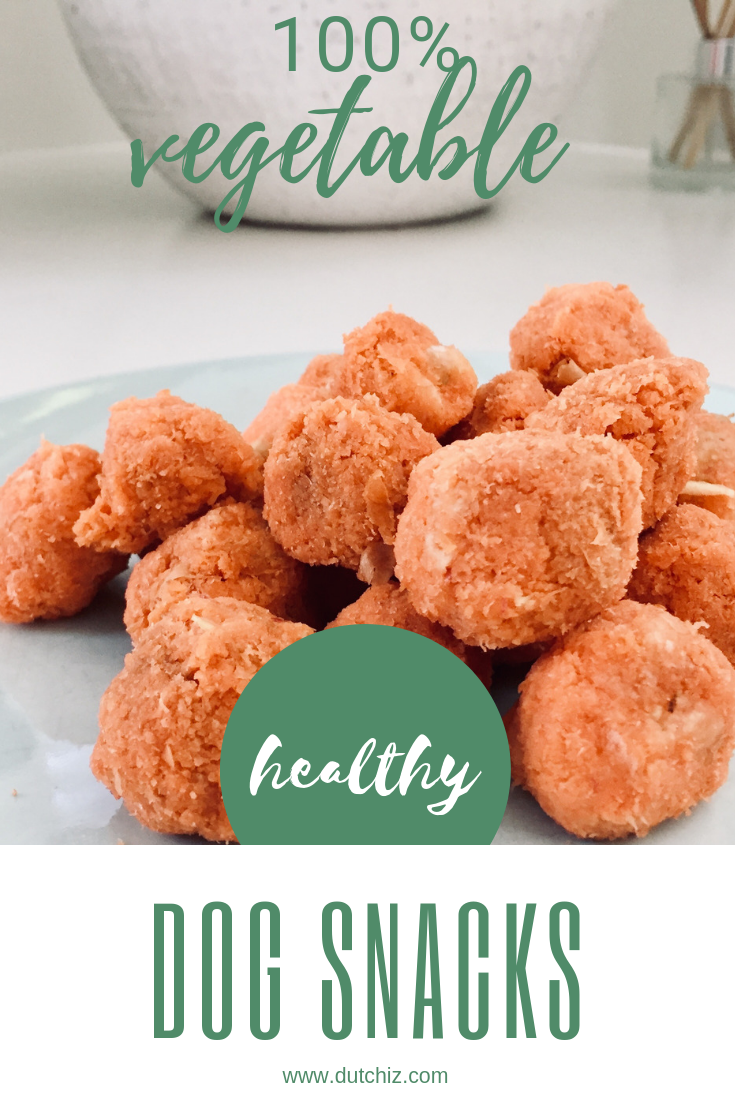 When you are juicing it is wise to first juice one fruit or vegetable and then the other ones. This way you can for instance take out the carrot pulp before it is mixes with the lime. I'm pretty sure the dogs will appreciate it ;)
Also be aware some vegetables or fruits are better not served to dogs, so be careful you don't mix everything together.
You can use:
apple
carrot
broccoli
bananas (in moderation)
blueberries
brussels sprouts (not sure what smell will come out later)
cantaloupe
celery
cranberries
cucumbers
green beans (not sure how to use this for a smoothie or juice though)
mango
oranges
peaches
pears
peas (cooked)
pineapple
raspberries
strawberries
spinich (small amount)
2. Peanut butter dog treats
I think pretty much all dogs love peanut butter. If your dog loves peanut butter than you should definitely try this recipe. Only three ingredients plus water. Take a large bowl and mix all the ingredients intil you see all the ingredients have mixed. Then add the water for the dough to become a little more smooth to roll out. If you have any baking molds you can use them to make nice cookies. If you don't just form round flat cookies by hand.
Ingredients:
2 eggs
1/2 cup creamy peanut butter (with or without chuncks)
2 cups flour
1/4 cup water (add more if needed)
Instructions:
Make sure your preheat your oven to 350° F/190° C
Mix the all the ingredients (without the water) in a large bowl until it's all combined
Carefully add a little bit of water (not the whole cup) and add if necessary until the mixture becomes flexible enough to roll out as dough
Now roll out your dough & cut out your favorite shapes with some cookie cutters
Put your cookies onto your baking sheet & bake for about 15 minutes. Every oven is different so take the dog cookies out when the dog cookies have the colour you want them to be (light honey brown).
Depending on how large your cookie cutter is you should be able to get a nice amount of dog cookies out of this batch. You can keep the cookies in a cookie jar for about a week or put half of the batch in the freezer.
3. Peanut butter, oats & broth dog cookies
Ingredients:
1

cup

whole wheat flour

1

cup

oats

1/2

cup

flaxseed grinded/broken

1/2 to 1

cups

beef broth

1/4

cup

peanut butter
Instructions:
Preheat the oven to 350° F/190° C

In a large bowl, stir together the flour, oats and flaxseed. Mix in 1/2 cup beef broth and peanut butter. Mix well, adding additional beef broth if necessary to bring the mixture together to a thick dough. Form into a ball and turn out on a lightly floured surface.

Roll to about 1/4 inch thickness and cut out to desired shape. 

Bake for about 20 minutes or until golden brown, flipping halfway. 

Cool completely, then keep in an airtight container for about one week.
4. Frozen apple yoghurt dog Treats
For this delicious cold treat you need an ice cube tray and a blender. If you don't have a blender a potato masher could do the trick if the apples are not too hard. 
Ingredients:
2 apples
1 cup of non fat yoghurt (greek)
a bit of water
Instructions:
Slice the apples into small pieces and remove the seeds and core
Mix the ingredients with a bit of water untill you get a liquid consistancy (when using a masher there will be chunks but that's fine)
Fill up the ice cube tray untill it's full and place it in the freezer.
After a few hours these treats will be ready and I'm sure your dog will love these fresh and natural treats.
5. Vegan & gluten free dog treats
Ingredients:
1 cup Oat or Rice Flour
2 ripe Bananas, mash it up
1/4 cup Peanut Butter (smooth & unsweetened)
If your dog has a grain allergie this is a great treat for him/her. A simple three ingredient treat that is easy to make. 
Instructions:
Peel your and mash the bananas, mix it with the peanut butter untill its smooth
Add your flour, half a cup at a time, and mix it up really well
Make a big dough ball with your hands
Chilling the dough in the refrigerator for about 20 minutes helps firm the dough (its optional)
Preheat your oven to 325 F / 190 C
Roll out the dough to a 0.5 inch / 1 cm thickness
Use cookie cutter or your hand to cut and shape your cookie
Place the cookies on a baking sheet 
Poke a few holes in each cookie using a fork
Place the cookies in the oven and bake for about for 30-35 minutes (untill golden brown)
Take the cookies out of the oven and let them cool down
You can keep the cookies in cookie jar or the freezer.
6. Apple carrot dog treats
Laika loves carrots and apples, so these homemade dog treats are one of her favorites. As soon as I grab a few carrots she starts licking her lips. For this recipe you'll need a cup of whole wheat flour, one cup of grated carrots, one egg, and a half cup of apple sauce.
Ingredients:
1 cup of whole wheat flour, brown rice flour, or gluten free flour
1 cup of grated carrots
1 egg
1/2 cup grated apples
Instructions:
Preheat oven 350°F / 190°C
Mix ingredients together until dough forms
Roll dough into small balls and place on an oven sheet lined with parchment paper. Press dough down slightly so the biscuits are about about 1/4 inch thick
Bake until golden brown and let cool on a wire rack
These cookies will still be 'wet' due to the apple, therefore it's best to eat them within a couple of days or put them in the freezer.
7. Pumpkin carrot dog treats
Ingredients:
3/4 cup soft or graded pumpkin (fresh or from a can)
1 egg, slightly beaten
1/4 cup shredded carrots
1 cup whole wheat flour 
Instructions:
Preheat oven to 350 F / 190 C 
Mix pumpkin, egg, carrots and flour in a large bowl until wel mixed
Roll the batter into small balls with your hand and place on a baking sheet
Bake for about 30 - 35 minutes untill gold brown
8. Salmon & sweet potato dog treats
Ingredients:
1 can salmon
1 medium sweet potato, baked in the skin
2 large eggs
1/3 cup coconut flour
coconut oil, as needed to grease the pan or parchment
Instructions:
Preheat oven to 350F/190C
Beat the eggs until fluffy in a bowl
Fold in the coconut flour and salmon
Let the mixture rest for 10 minutes while the coconut flour absorbs the mixture
Remove the sweet potato from it's skin and mash it until it is smooth
Fold mashed sweet potato into the mixture
Grease a baking mold with coconut oil
Press the mix into your mold
bake for about 60-70 minutes until the mixture is firm, the edges are golden brown and a tooth pick comes out clean
Allow to cool and slice into squares
These treats will remain a bit moist and therefore have to be given within a couple of days. You can also keep them in the freezer and take out what you need.
9. Pumpkin carrot dog treats
Ingredients:
3/4 cup canned pumpkin (get the kind that has ONLY pumpkin in it)
1 egg, slightly beaten
1/4 cup shredded carrots
1 cup whole wheat flour 
Instructions:
Make sure the oven is preheated to 350 F / 190 C
Mix the pumpkin, egg, carrots and flour in a large bowl
Roll small balls by hand and place them on a baking sheet
Bake the treats for about 30 - 35 minutes
10. Frozen Banana dog treats
The easiest and maybe even the most delicious treats to make are these frozen bananas.
All you need is two bananas and half a cup of peanut butter.
Instructions:
slice up the bananas into about 2cm parts
warm up the peanut butter in a pan, add some water if it stays too thick
dip each piece of banana in the warm peanut butter
place the banana on a tray on a piece of backing paper
place the tray in the freezer
after a couple of hours the pieces can be put in a container and kept in the freezer
This treat is delicious and your dog will love it! If your dog doesn't like it just keep it
Master Chef for dogs
I hope you have found one or more recipes you would like to try making for your dog. You really don't have to be a master chef contestant to make these dog cookies and dog treats.
I like easy, quick and tasty recipes and these fit that profile.
Let me know if you made one of these recipes and more importantly if your dog liked them.
Bon apetit dear doggy friends!